Visitors' Comments
Jindrich has been encouraged by the following comments about his artwork: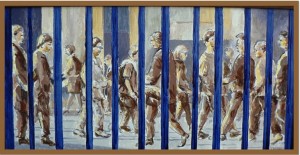 "I was very impressed to view the website; it is very well presented. Tell Jindrich, we are all very proud of him and honoured to be his friends. I have left a few words in the Guestbook as follows: These paintings are very nice and so is the website. Well done!"
K.H.,  Capalaba, Queensland, Australia
"Wow! That's amazing art!"
C.P., Melbourne, Victoria, Australia
"That is amazing, thank you for sharing!"
L.A., Riyadh, Saudi Arabia
"Wonderful!  I like it all!"
V.L., Minnesota, USA
"The website for your dad is fantastic.  I have sent you a comment in the Guestbook. It is amazing, that your dad is so versatile. Surprisingly he is a good poet as well. It was a great idea of yours to have created for him and his friends the website with his artwork. The Guestbook comment is as follows – the paintings on Jindrich's web page are very nice. It is enjoyable to see such diversity in the style of his paintings. We wish Jindrich many happy hours in his art work."
L.H.,  Capalaba, Queensland, Australia
"Beautiful! Full of colours!"
Z.P., Ceske Budejovice, Czech Republic
"Dear Sir,
We were very pleasantly surprised by your pictures. They are very interesting and in our opinion, optimistic. We are glad that Eva enabled us to view your art works. We wish you many more creative years. With warm regards."
J.H. and L. H., Lomnice nad Luznici, Czech Republic
"Dear Mr. Jindrich,
Thank you for your pictures in which I am finding light and hope! I like the harmony of colours and shapes which give the impression of movement or starting to move. Your pictures reflect optimism. I wish you much joy in every day with God's blessings. With kindest regards."
A.D., Portsmouth, United Kingdom
"It is really beautiful – the photo gallery is a great idea. Your father is very gifted – it is a blessing from God."
J.V., Nova Bystrice, Czech Republic
"Hello Mr Degen! Your daughter Eva looks thrilled to be standing with you and your art display… It's not easy to see websites when you don't have Broadband, but I was so pleased to see your different styles. God be with you as you become an Internet Artist with potential for world acclaim!"
G.B., Brisbane, Queensland, Australia
"Thanks for the link to your dad's site. We really enjoyed looking at his art. It is lovely."
S.I. and Z.I., Warragul, Victoria, Australia
"It's a very impressive website. I liked the way the pictures can easily be seen in a larger format. The colours in the art pieces are very positive, reflecting optimism, as well as purity and wholesomeness. Jindrich's versatility is amazing – the way his artwork ranges from impressionism, abstract to portrait and still life."
C.B., Victoria Point, Queensland, Australia
"Thanks for the website link. I have already checked it. There are some nice pictures. I will send it to my parents as well."
J.B., Nuremberg, Germany
"Thank you so much for the link to your website – absolutely delightful. I will look at it in more detail when I have more time. Your father seems a very interesting person and I would be delighted to meet him. What a great artist he is!"
D.S., Ormiston, Queensland, Australia
"I like colours, freedom and the joy that is in them. Looking at these pictures, this is exactly what I feel. Some of them I can visualise in my home. I like the works, thanks for sharing.
R.S., Nova Bystrice, Czech Republic
For more comments, see page 2 and page 3.