Welcome to the website of
Jindrich (Henry) Degen
Czech artist now living in Brisbane, Australia.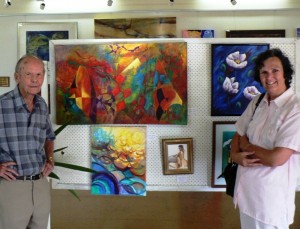 This website was created by Jindrich's daughter, Eva Peck. She and her husband, Alex, feel that Jindrich Henry Degen, now in his nineties, has created works of art that are worth sharing with a wider audience.
Inspired by Robert Schumann, Jindrich believes that: "To send light into the darkness of human hearts – such is the duty of the artist."
The site also features digital nature photography of Jindrich Henry Degen, often with an artistic flair.
Since Jindrich has Czech background, the site also features a Czech section, which includes Jindrich's poetry in the Czech language.
So please feel free to browse Jindrich's art and photo galleries. If there is any painting you'd like to buy, please contact us.
Thank you for visiting — and come again!
Artist's Background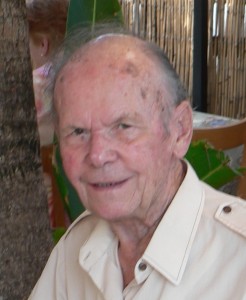 Jindrich Henry Degen was born in 1923 in Prague, Czechoslovakia – now the Czech Republic. Since his youth, he has been interested in both art and music. Following his secondary education, he decided to study music and enrolled in the Prague Conservatorium Instrumental Section – oboe. After graduation, he worked for about two decades in symphony and opera orchestras in Prague.  When he and his family left the country, he performed for over two years in the "Great Theatre" Orchestra, Gothenburg, Sweden. Later, in 1968, the family immigrated to Australia and Jindrich was appointed the oboe soloist in Melbourne Symphony Orchestra, where he played for eleven years.
After his retirement in 1979, he was again able to devote himself to art. While living at the Sunshine Coast, he enrolled in TAFE art courses and worked in different media to revive and update his art skills.
Following his move to Redlands in 1985, Jindrich participated in different art groups before becoming a member of Yurara Art Society. Here he took part in workshops with prominent art teachers, including Irene Amos, Jan Jefferies, Jack Oudyn, and Michael Taylor.
Jindrich finds the area which has later become the Redland City a place of great attraction. It has a lot of parks and natural bush, as well as pleasant housing areas. The sea is also easily accessible with transport to islands of different sizes. In addition, there is a tradition of capable leaders and a variety of centrally located civil and cultural institutions.
As an artist, Jindrich finds Redlands conducive to expressing his feelings, responding to different light, colours and moods, and letting his imagination flow freely. It can be surprising to see normally mundane objects in a different light. This can be something in the natural environment of a garden or bush, vegetation or fauna.  It could also be non-living – a building, a part of the city, etc. These realistic scenes, when captured on camera or put in a sketch, often seem to be out of this world. To explain what is not immediately visible is to know the background of a painting – to see the inspiration behind the work. Sometimes it is obvious to keep a harmonic structure of the image, other times it is natural to work more freely.
Jindrich featured his works in previous solo exhibitions at the Redland Art Gallery. The first one was in March-April 2004. Later, in July-August 2010, he displayed a selection of paintings motivated by the idea of mandala. In November 2013, he had a solo exhibition at the Yurara Art Gallery. His latest exhibition, featuring realistic images as well as some fantasies and some transpositions in semi-abstract or abstract forms, was held in July-September 2015 at the Redland Art Gallery, Capalaba.
Many of Jindrich's artworks have been published in book form by Pathway Publishing, a company created and managed by Jindrich's daughter, Eva Peck, with the assistance of her husband, Alex. These include
Artistic Inspirations;
Colour and Contrast;
Faces and Forms Across Time;
Variations;
Nature in Art; and
Spirituality in Art.

Jindrich Henry Degen's family are sad to announce that Henry passed away on September 12, 2022 at the age of 99.
Visit the In Memoriam page for more information and availability of free paintings. More paintings will soon become available for giving away as they are processed and added to the website.